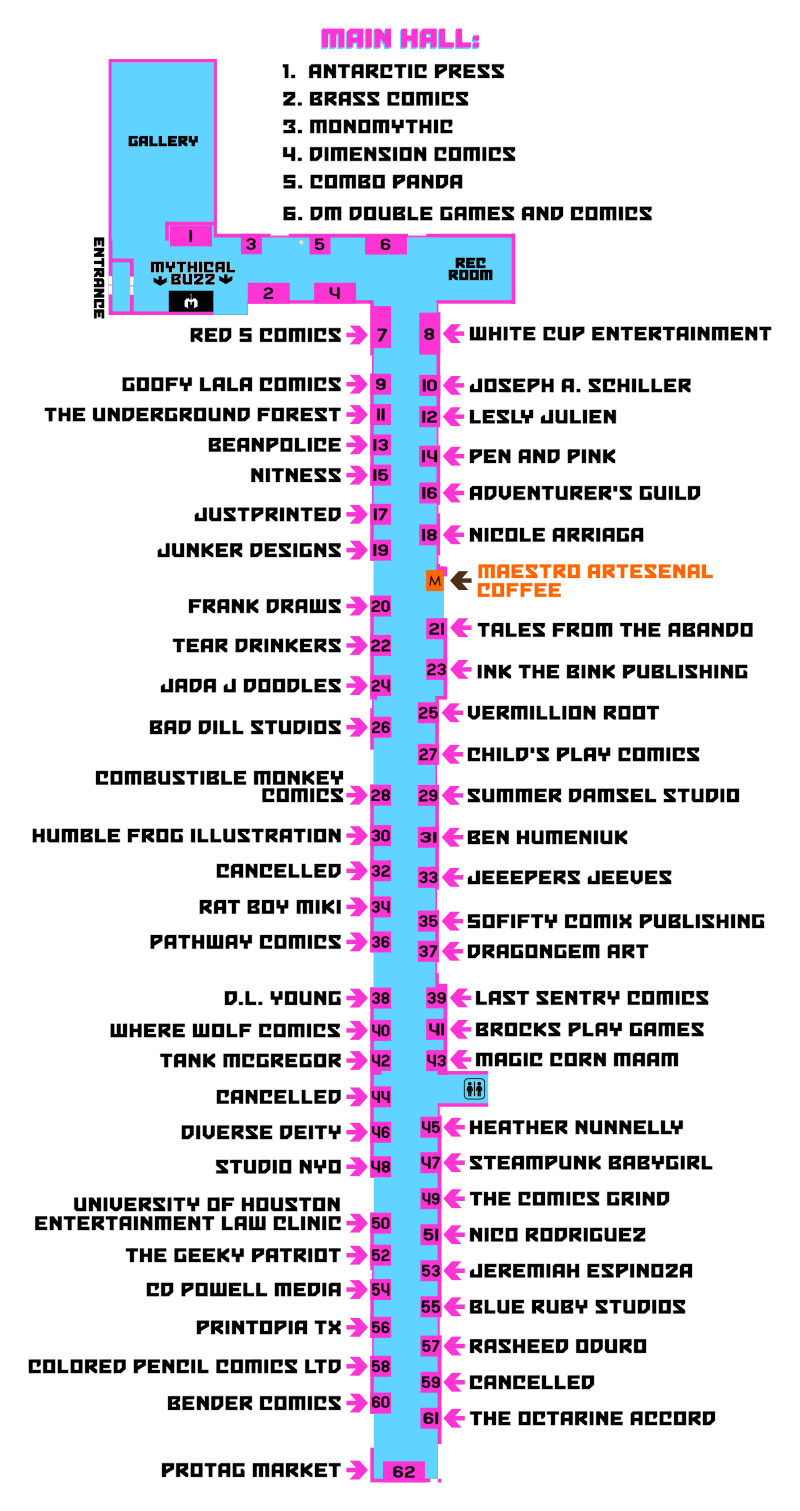 In 1984 Ben Dunn co-founded Antarctic Press, an American comic book company specializing in manga-style (Amerimanga) titles. His most notable creations for Antarctic Press are the comic book series "Ninja High School", "Tomorrow Girl" and "Warrior Nun Areala" which became a hit Netflix show for two seasons in a row.
Isaiah Broussard is the founder for Brass Comics and has created notable webcomics such as "Funktastic", "Transyltown" and "Crackers and White Wine".
Kevin Garcia is a certified educator and professional writer whose work has appeared in the Associated Press and Marvel Comics. He gives a variety of workshops, moderates panels, and teaches journalism and graphic design at the Liberal Arts and Science Academy in Austin. His work can be found at www.KevinGarcia.com or www.Monomythic.com.
Jay (guy on the left) is the founder of Dimension Comics and has been the owner-creator of "Severed Souls", a paranormal battle between good and evil, only the powers they possess come from their ancient souls.
Johnie Busa (guy on the right) is the right-hand man at Dimension Comics, and is the proud creator for the "Journal". where under a One World Government an officer is sent to obtain a relic, and with his unlikely accomplice they build a militia to uncover just how deep the corrupted Government goes.
Bradley William Smith is a actor, voice over artist, and stand-up comedian from Houston, Texas. While Smith started theater in middle school, his acting career began in 2014 after landing a role in the feature film "Walk by Faith". Since June 2017, Smith has been the voice for the virtual YouTuber Combo Panda.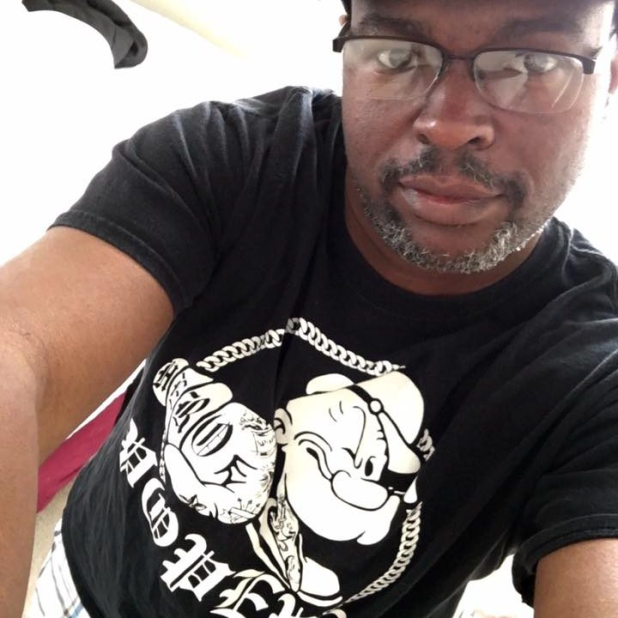 Duane Moore, the brainchild of his own tabletop games "Surviving the G.A.M.E." and his own comics "Brand X", "Power Corps", "Baptist" and "Old Glory", which all take place in a world filled with secret socites and an underground war fought between the Elys and the Nastrond. Within this world heroes must arise. Welcome to the DMD Universe!
Red 5 Comics creates and produces cinematic-style comic book entertainment. It earned the 2007 Gem Award for Best New Publisher and its titles have been nominated for four Eisner Awards and two Harvey Awards. Red 5 Comics was founded by Paul Ens, former Director of Lucasfilm's Lucas Online, and Scott Chitwood, co-founder of TheForce.net and writer for Superherohype.com and ComingSoon.Net. Red 5 Comics is published by Scott Chitwood.
Looking to snag some of Houston's hottest geeky swag? Come check out what White Cup Entertainment crafted up! They will have all sorts of graphic designs from pop culture with a special H-Town twist on tees, caps and other merch.
Tell Diam is a talented comic book artist, family man, and passionate advocate for independent creators. Before discovering his love for art, Tell worked as a steel worker for many years. Despite the physically demanding work and long hours, he never lost sight of his dream to become an artist. Eventually, Tell began pursuing his passion for art part-time, while still working in the steel industry. He honed his skills through countless hours of practice, studying the works of great artists and experimenting with different mediums and techniques. His work is known for its intricate details, dynamic action, and emotional depth, and he is respected by fans and fellow artists alike for his skill and dedication. Through hard work, determination, and a passion for his craft, Tell has proven that anything is possible if you believe in yourself and never give up on your dreams. Follow him on his artistic journey and discover the magic of his unique comic book art.
Joseph Schiller is a self-published writer for the following indie novels "Upon the Arrival of Dawn" (fiction) and "Judaism & Shintoism" (non-fiction), and has now delved into the universe of indie comics with his release of his indie comic "Still Got It!". This comic explores what happens when superheroes get old, and become delusional, and get admitted into an assisted living facility, specifically one named Shady Oaks.
Mark Nasso is an illustrator from Houston, Texas. While not drawing sketch cards or other sci-fi and fantasy art he is busy promoting his self-published graphic novel series, Land of the Rats which explores his interests in mythology, history, and the supernatural. "Land of the Rats" tells the story of Jack Natari, a hybrid rat-human from the nation of Raelak and his adventures after being exiled from Rat City. Wandering deep into the desolate Vastness of Blask, Jack meets many friends and foes, encounters strange beings, and befriends the dragon Mephiliaxus who may hold the secret to Jack's quest.
Lesly Julien is an independent comic writer. A husband. A former stay-at-home dad. A collection of positive nouns
and adjectives, carbon, and so much pizza. Lesly is a proud Marylander who moved across the country to San Diego, California for a short time, then Omaha, Nebraska because kids are expensive and now San Antonio Texas because winter is awful.
His work has been included in the Big Hype volumes 1&2 anthologies, he's written short comics such as Ghost Gauntlet, Little Dragon Rider, Kurdish Delight. Most recently he's written Savage Wizard and Headcases #1, with issue 2s to follow in 2024. He's currently working on a one shot graphic novella.
Estefania is a Mexican-American illustrator based in Houston, Texas. She has a passion for cuteness, coziness, and comfort. In 2017 she graduated with a Bachelor of Arts from the University of Houston and since then has been illustrating and designing merchandise under the online pseudonym beanpolice.
https://bio.site/beanpolice
Janine is a painter/illustrator and currently lives in Houston, Texas. She offers access to very early on sketches, individually made sketches, amazingly adorable and spectacular Alice content (her old lady pupper), and more. She's always up for suggestions about what you'd like to see.
https://linktr.ee/Nitness
Adventurers' Guild is an action/drama sprite comic stylized like a classic role-playing video game. It focuses on a group of adventurers tasked with various quests—ranging from evil spirit hauntings, tournament fighting, secret deliveries, orc invasions, and more! Every episode focuses on a different quest sent in to the Adventurers' Guild from someone in need. Klaus Warrington, a half-elf swordsman, and his party of adventurers are ready for anything.
The writing and artwork both are made by Phillip "Guildmaster Phill" MacArthur. He was born and raised in Houston, Texas and got a bachelor degree in English Literature from the University of St. Thomas in Houston. He has self-published a couple of books, has a second degree blackbelt in Japanese Jujitsu, and a family of himself, his wife, and four children.
Hello, we are a small business that provides fast, fun and reliable solutions to our customers!
Nicole "Sebleem" Arriaga is an Illustrator based in Houston, TX. She is passionate in drawing fairies, ballerinas and good ol'MAGIC!
After graduating in 2022 with a BA in Art/Art History from SHSU, Nicole's dream has been to turn her passion project into a webcomic- which is NOW!(before she forgets to save her drafts)
"Faery Dance" is a re-imagined tale of the Nutcracker that has been years in the making.(It is currently in development for reboot after its short pilot on tapas)
https://linktr.ee/Nicole_Arriaga
My name is Frank Campos Jr. I have lived in the Houston area for over 25 years. I am a freelance illustrator that loves traditional animation and sequential art. Much of my work is based in nostalgia and pop culture.
Tales From The Abando is an outrageous graphic novel series set in the not-so-distant
dystopian future that follows a motley crew of misanthropic outcasts, criminals, and freaks as
they navigate the perils, politics, and utter chaos of the post-apocalyptic wasteland.
Created in 2017, Tales From The Abando is the collaborative lovechild of visual artists Mauro de
la Tierra and Glenn Edinburgh and writer Joshua Anthony Rodriguez. Subjects tackled in the
series include poverty, capitalism, religion, and other various systemic issues plaguing society
all whilst making biting critiques of pop culture by way of dark humor.
There have been a total of three self-published comics in the Abando universe including 'Apox',
'The Rail Yard Ghost', and, most recently, 'The Holy Relapse'.
Physical editions of Tales From The Abando graphic novels have been sold at pop-ups at The
Mexic-Arte Museum in Austin, Presa House Gallery and Not for You Gallery in San Antonio, and
Zine Mercado in Chicago.
Tales From The Abando is currently working on their fourth book titled 'Orchid', set to be
released sometime between 2024-2025.
Pizo Meyer developed a love for cartoons when he started drawing them for his school newspaper in 1987. He continued his work in comics in the early 90's with the release of his own series titled "Sickness & In Health" which was released in Roman Dirge's "Xenophobe" series in San Diego, California. After relocating back to Houston, he created a new comic titled "Seed" which had special releases by Ghostfish Publishing and Pulp 21 Comics. In November 2020, Pizo and writer James Roberts joined forces to create "PJ Press" to work on the two series titled "Domine" and "While You Were Out". Pizo continues to develop one-shot printed comics under his own press called Ink The Bink Publishing with titles such as "Seed", "The Signal" and "Monday Equals Murder"
Come meet Roy Gonzales & Jesse Sosa, two of the brilliant creators involved with Childs' Play Comics! Roy is a freelance artist from Austin and Jesse is a veteran artist of the video game industry from Dallas. Come by check out their comic titles "How to Hunt a Hero" and "Malia Mayhem!"
Roberto Rivera Padro is a writer, illustrator, animator and comic book artist, with a passion for working with and advocating for fellow indie creators. Having been a comic-lover since early childhood, he quickly noticed a lack of representation which led him to gravitate to monsters & mutants. From the beginning of his career, his inspiration has been to create the characters and stories that he always wanted to see. His co-writer & brother, Rick Rivera has a passion for storytelling, though he spends most of his time working for the City of Hayward, CA, to acquire shelter for the houseless and overseeing the distribution of federal funding to nonprofits. In 2019, Roberto & Rick began working on their original comic, Carlos the Kaiju Killer. Carlos, a seemingly average man, comes to the heroic rescue of his city, only to learn he isn't average at all. The story merges eastern and Caribbean cultures, with strong ties to native Taino folklore. Three years later, Carlos the Kaiju Killer became the top-selling indie comic in Austin, and is now in its 5th issue. In 2022, Roberto worked with Matt Frank and Antarctic Press on Spectreman for Spectreman Heroes, and later on Godzilla Rivals, and Godzilla: Rulers of Earth. He was featured as one of the top 2 artists for Godzilla at Giganticon 2023. At Comic Indie Con, Combustible Monkey Comics will be debuting their newest title, Gold Dragón, which features a retired luchador, who now works as a private detective. He returns home to investigate the mysterious deaths of multiple fighters, but could never predict what he would encounter.
Come by our table and see us, we'd love to meet you!
Mena Baldwin is an indie comicbook artist living and working in Houston, Texas. Her current comic, RE: WitchBlade is a fantasy/drama tale, that is an adaption of a story written as a teen. When she is not working on comics, she is the resident frog lady; ready to grace you with a frog charm!
Ben Humeniuk is a Texas-based cartoonist and educator, writing and illustrating graphic novels and novellas like Waking Life, the STEM-focused The Magnificent Makers series, or BRO-D CAN'T BE BROKEN. When he's not teaching or drawing, he's hanging out with his wife and three kids, volunteering with his campus comics club, or God help him, watching Star Trek. Lots of Star Trek. (And probably reading wiki articles on really obscure starships.)
You can find him at BenHumeniuk.com, Ben.Humeniuk on Instagram, or @BenHumeniuk on Twitter.
Miki Ramirez is a self taught Animator, storyboard artist and comic illustrator/writer. Ever since high school Miki has been working hard to develop/help others create the most amazing independent stories ever seen. He is the lead artist for class act comics and the co-creator of furious five and will be debuting his first solo act during comic indie! get ready for his own original monster comic: Gargoyle!
Dragongem Art (Emily) is a digital artist based in Sugar Land. She's pursuing a BA in Art at the University of Houston. Her work is inspired by the absolute nerdiest of interests, like Dungeons and Dragons and Magic: The Gathering. Drawing funky critters is her favorite thing to do.
D.L. Young is a Pushcart Prize nominee and winner of the Independent Press Award. He's also much less serious than his author photo implies.
A lifelong science fiction fan, his intense, fast-paced novels echo his many influences from books and movies, including Star Wars, the Mad Max films, Dune, Blade Runner, Star Trek, Harlan Ellison, and the novels of William Gibson.
If you like page-turning, edgy science fiction, you're definitely his kind of reader. For a FREE STARTER LIBRARY, previews, giveaways, and behind-the-scenes exclusives, visit dlyoungfiction.com
We are a comic book and children's book publisher based in Pearland, Texas and have been producing comic books for over a decade. We are now bringing our expertise to the advertising world.
We specialize in comic/cartoon-style and retro 1980s/1990s-style marketing products. We provide unique custom advertising for magazines, comic books, social media, and direct mail marketing campaigns.
Rob Saucedo is a film programmer and writer living in Houston, Texas. His work has appeared in Fangoria, Birth. Movies. Death and The Bryan/College Station Eagle. WHERE WOLF - a horror-comedy about a reporter who must go undercover at a furry convention to stop a werewolf from eating the attendees - is his first graphic novel.
Brocks Play Games, talk about games and make games!
Caroline and Jay both grew up playing games. Feast of Olympians is dedicated to Caroline's parents, "The most creative and competitive parents a girl could have!". Jay's competitive nature was fostered from a young age with family game time. Their extensive board game collection has grown with the addition of their own games, Feast of Olympians and Matchy Matchy. Let's Play!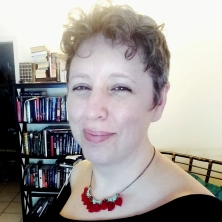 Chanteé is a published author and indie comic creator for dark fiction, fantasy, and science fiction for everybody. She particularly enjoys writing villainous characters such as Jordan, from Please or the complex anti-hero Hunter from the Dying Light web comic, originally produced by iNHale Film Productions. In her free time Chanteé enjoys watching movies while floating in her pool, introducing her kid and their friends to larping and table top gaming, and annoying her cats.
Tristen Rodriguez is a 29 year old Mexican-Italian American from San Antonio, Texas. Known as "Diverse Deity" for her love of all things pop culture. Anything ranging from cartoons, anime, movies, tv shows, mashups & parodies. This self taught illustrator has always been passionate about the animation genre & has a goal of creating unique masterpieces for a new generation.
Erica is an illustrator based in Houston, Texas. She graduated with a Bachelor of Fine Arts from The University of Texas at Austin and since then has shown artwork at local galleries, tabled at art events, and designed for various clients. Her cute illustrations often contain a bit of sass and depict references from pop culture, nature, mental health, and everyday life.
You can find her on IG @STUDIONYO.
The Entertainment Law Clinic is an advanced entertainment law course for students seeking practical experience in transactional and administrative aspects of the entertainment industry. Students will represent creators, businesses, and non-profits in the music, film and television, dance, and art businesses with a focus on trademark and copyright prosecution and counseling, contract drafting and negotiation, and royalty stream creation and retention.
Justen S. Barks, Entertainment Law Clinic Director
If you have a legal matter regarding one of the issues listed above, or you believe the UH Entertainment Law Clinic could provide assistance, please fill out the form at the following link. After reviewing your responses, a representative from the Clinic will contact you.
Nico is a comic book writer and artist from Houston Texas with a passion for storytelling and cartoony artwork. His work includes self-published and small press comics, including his upcoming anthropomorphic crime comedy graphic novel, West, Not South.
Brian Salinas AKA: The Geeky Patriot is a Houston native, USAF veteran and an indie comic book creator.
He got his start with Cutting Edge Comics in 1993 bringing his creation Sundog to life, after almost 20yrs
of working on indie comics. Brian is bringing his creation Sundog back after almost 30 years after the
original publication date.
Jeremiah Espinoza is a Latino storyteller from Houston, Texas. He is the creator of the comic series Hallowed North and his work has been featured in collections such as Fairytales from Mars and The Pub Crawl Anthology. He is currently working on a high fantasy comic titled ONE-SHOT.
Born and bred in Houston, Texas, Rasheed is an individual that has a major appetite for illustration. This has manifested in the self-published series, Wrench Tale. In addition he makes comics about his everyday life with his wife called SheednShell.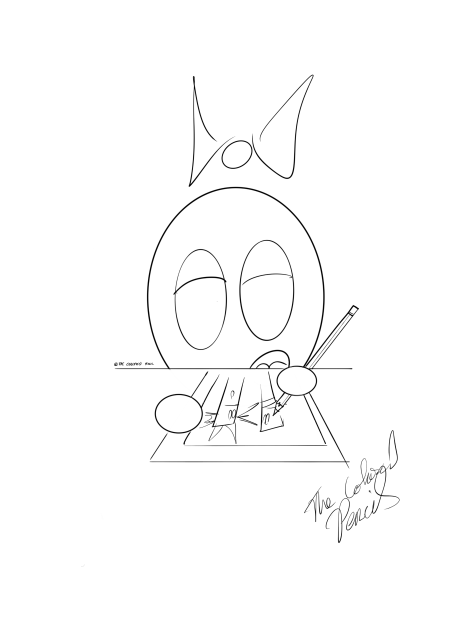 The Colored Pencil is a Houston-based, Black, multi-media artist, cartoonist, and illustrator.
She is a two-dimensional artist with heavy influences from animation, illustration, cinematography, and graphic design.
This year, her work was featured in Hardy and Nance Studio's Black and While at Show 7.0 and the Operation: Get Lit (living in Time) Educational Scholarship Benefit.
The Colored Pencil started publishing her work online on October 31, 2020. In 2022, she created the publishing company "Colored Pencil Comics Ltd.", where she continues to publish comics and other associated works. Most of the comics are made using a hybrid method of traditional hand-inking and digital illustration.
The Colored Pencil uses her art as an exercise in self-expression. Much of her work is based on personal experience and her love of pop culture, horror, sci-fi, and fantasy. Most importantly, it is a way to engage in a sense of play with herself and the audience.
What's better that enoying the crafts of the indie arts? Enjoying it what a cold bubbly glass of craft mead. Come on by and get a glass poured, or get a sample of all four of our meads right off the tap. At the moment you can't get this mead anywhere else in Houston, so its a rare opportunity. Sure you might have had mead, but have you ever had CRAFT MEAD? THIS IS THE SPOT to see what you've been missing out on.
For coffee to be considered Specialty Coffee, it must obtain 80 points or more according to SCAA standards. This is determined by tasting, uniformity and consistency. ​To accomplish this, we take an artisanal approach to every step, from sowing the seed to roasting.
We start with the best cherries which are harvested at their perfect ripeness.
Then they are artisanally processed, fermented and dried to render a unique, single origin, specialty coffee. Roasting in itself is a work of art used to bring out the best aroma and flavor.
Come try some of the best coffee that Houston has to offer! Have nice cold or hot drink while enjoying your time at the event!